Zari, Kalabattu, Kasab – the many names of the palatial real silver wire woven in the make of opulent textiles synonymous with Banaras. The origin of Zari, derived from Zar or gold is widely believed to have come from Persia centuries ago. Like several other crafts, its splendour reached greatest heights during the Mughal Period. Historically produced in Surat and Varanasi, zari is also believed to have been imported from France in the late 19th century.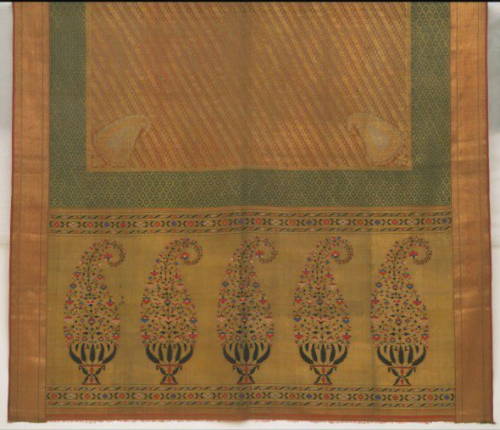 Silk and real gold zari, woven in supplementary weft technique 
Varanasi.
V&A Museum Collection
A lineage dating back to the Rig Veda as the attire of the gods, royal patronage and favouritism amongst the elite, zari woven textiles hold a position of supremacy. Tales of emperor Zahiruddin Babur gifting gold zari woven 'robes of honour' to allies as a symbolic gesture to an elaborate 22 days, 60-person process to make 400 km of length – such is the grandeur of real zari.
Making Process of Real Zari
While the woven interplay of silk and zari has always been raved and lusted over, the evolution of cotton Jamdani, where thread patterning was overtime replaced by zari, cannot be overlooked. A vision in itself, the intricacy and elusive craftsmanship makes the blend both remarkable and treasured.
Beyond visual aesthetic, zari is known to lend a structural quality – a certain level of fluidity by balancing the weight of textiles when worn and draped.
---
With Tilfi, go back in time to glorious weaves and famed Indian artistry.
---
Join us on our day out with Tilfi! In this section, we take you around some of the most interesting events and spaces on craft, culture, textiles and design.