The Tilfi Team visits the Pra-Kashi exhibit showcasing 46 textiles woven on traditional drawlooms over a period of 25 years at ASHA, a silk-weaving workshop based in Varanasi. While the textiles are not recreations of original pieces, the luxury silks on display are all woven in revival weaves, extinct in India since the 19th century. These complex weaves once thrived and led to historic drawloom centres worldwide – Mughal India (1526-1857), Safavid Iran (1501-1722) and Ottoman Turkey (1299-1922).
The opulent silks on display are woven in taquete-samite, lampas, extended samite, brocaded double-weave, damask, velvet and voided velvet weaving. The pieces encompass garments, draped textiles and art pieces similar to decorations possibly used in the Mughal courts. Amidst the gilded gold and the shimmering silver backgrounds, the woven motifs revolve around florals, animal motifs and human figurines. The grand display, carefully divided with black panels and dim lighting to guide one through, comes to life with Mughal paintings & jewels, quotes on eternal Kashi and verses from the Bhagavat Gita.
---
---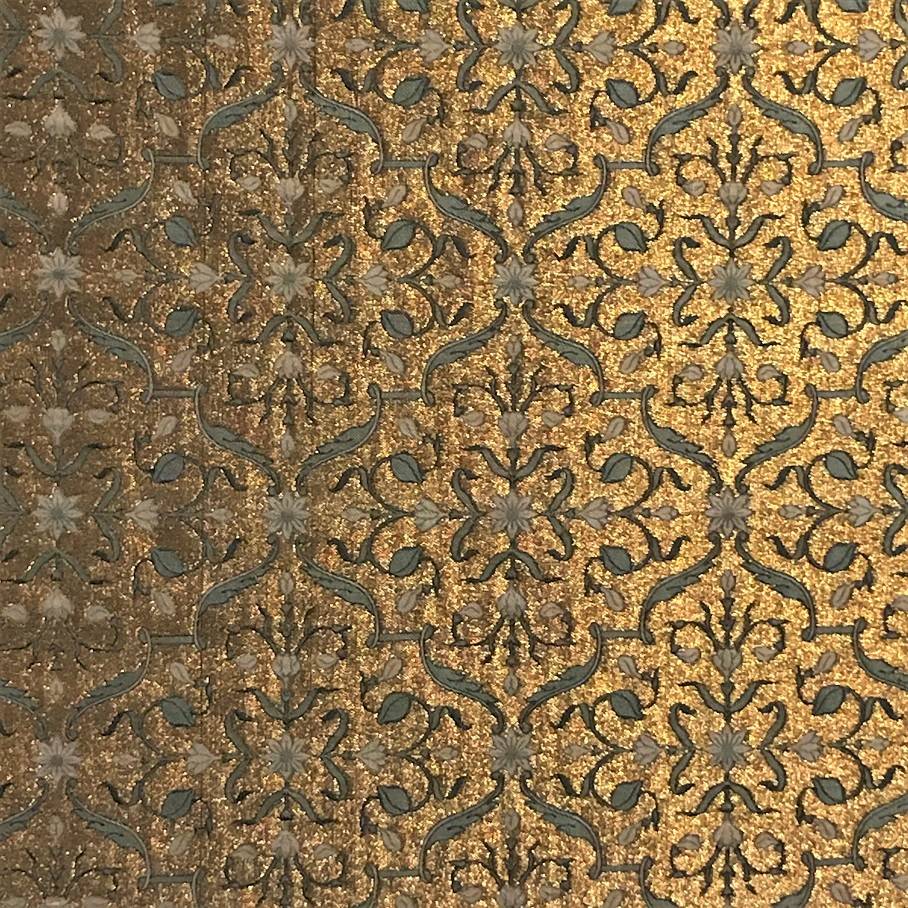 ---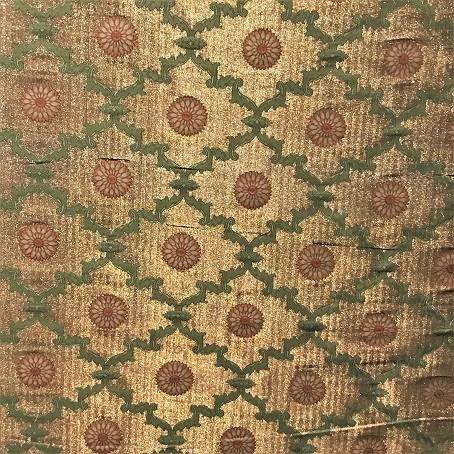 ---
Minakar or Enameller textiles - inspired by 'cloth of gold' woven in Mughal India and Safavid Iran in the 17th & 18th century. All panels woven in silk and
silver-gilt thread in extended samite weave. Suresh Neotia and Family Collection, Kolkata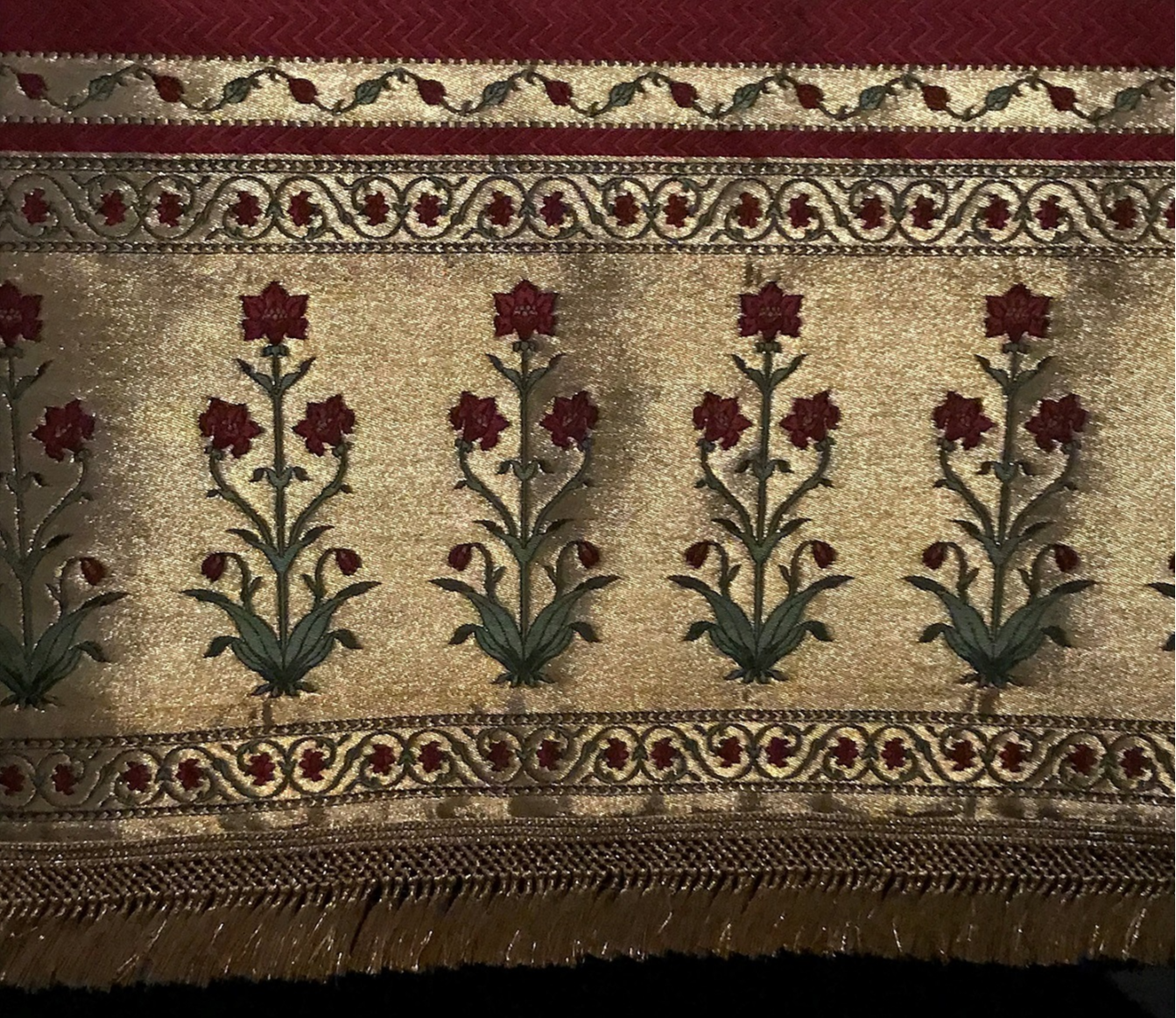 Shawl woven in silk and silver-gilt thread in extended samite weave, 1997. Suresh Neotia and Family Collection, Kolkata 
---
---
KASHI / BENARAS / VARANASI
"Believed by many to be India's oldest and most sacred city, Kashi has been a spiritual destination for Hindu, Buddhist and Jain pilgrims since the first millennium BCE. From around the same time, the city has been also celebrated for its textiles. The city's weavers likely wove very fine cotton fabrics since antiquity, but they have been known in recent centuries for weaving luminous gold and silver-brocaded silks. These mirror the city's transcendental light, just as the waters of its sacred river, the Ganga, gather and refract sunrays at dawn.
In the brocades of Kashi, precious metals are often so densely layered as to transform fiber and yarn into artefacts of ineffable radiance and purity. As finely handcrafted works, moreover, they remind us of the surrender, absorption and release that have been connected, in the Indian tradition, to the act of making. This immersiveness has been compared to dhyana or sadhana, the inward concentration or practice that illumines the mind and frees the soul. In some ways, then, these resplendent weavings of silk, gold and silver can be seen as a metaphor for Kashi's agency of illumination and transcendence in Indian thought and experience."
Text from National Museum
---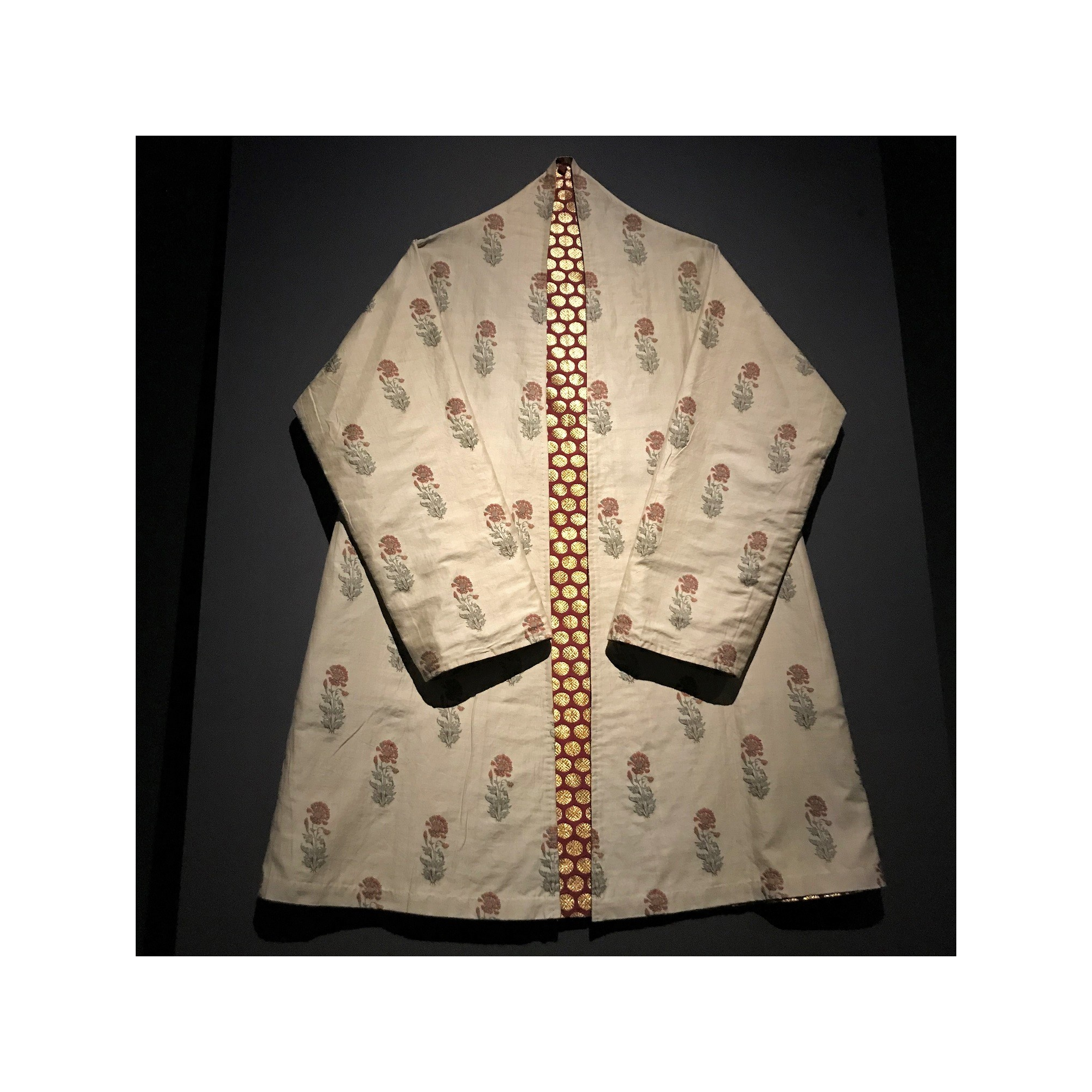 Reversible Coat - white silk twill brocaded with silk, lined with red silk-cotton taffeta brocaded with silver-gilt thread. Varanasi, 2008
The flower motif is borrowed from the end-panel of a Kashmir shawl, dated c.1700. Calico Museum of Textiles, Ahmedabad
---
---
---
Silk-cotton taffeta brocaded with silk, silver and silver-gilt thread, Varanasi
---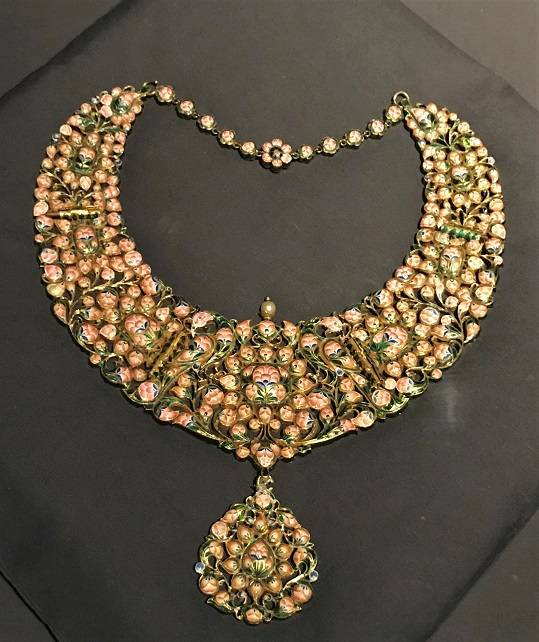 Kanthi (Necklace) - Gold, white sapphire, enamel. Varanasi, c. 19th century CE. National Museum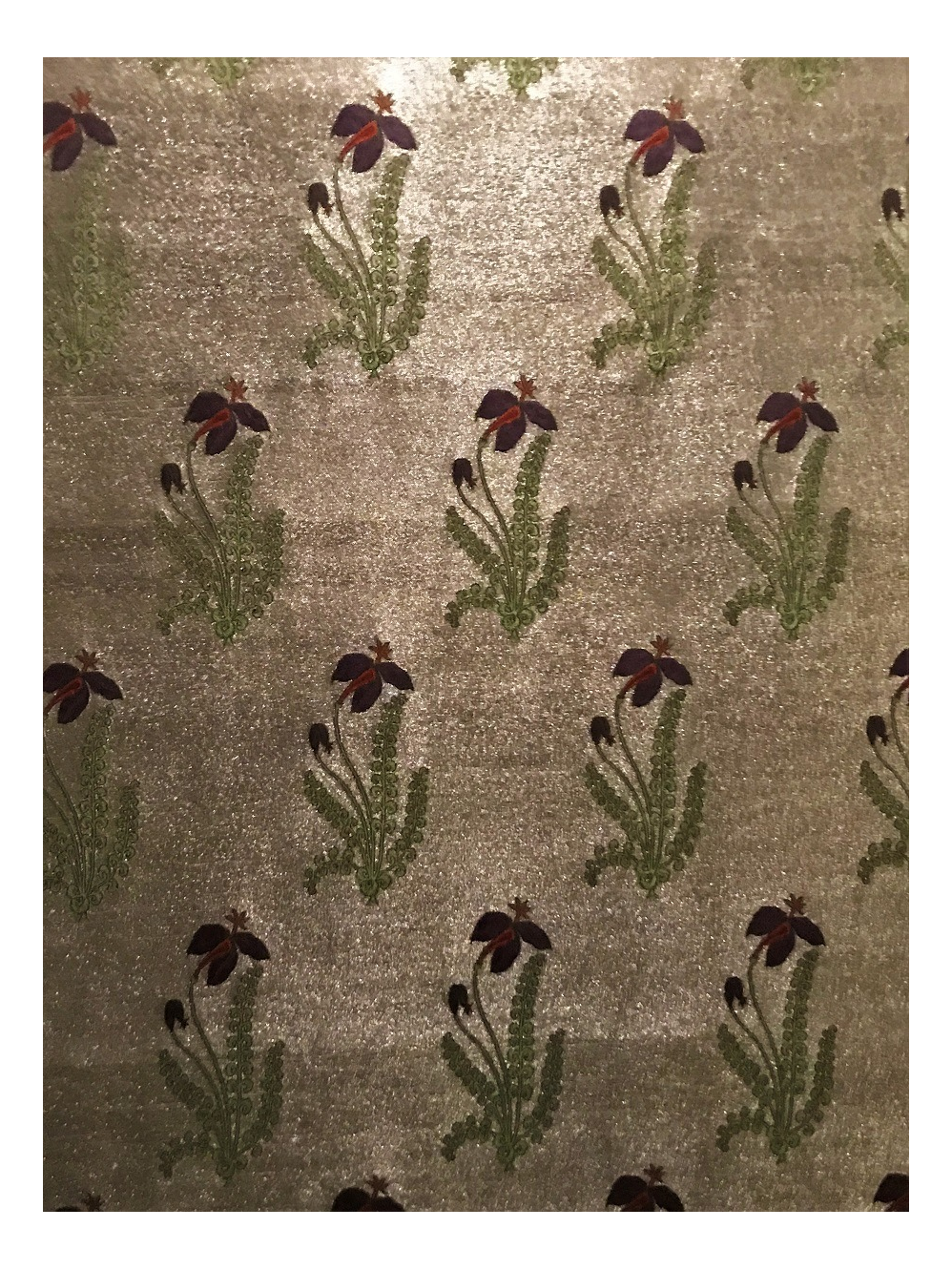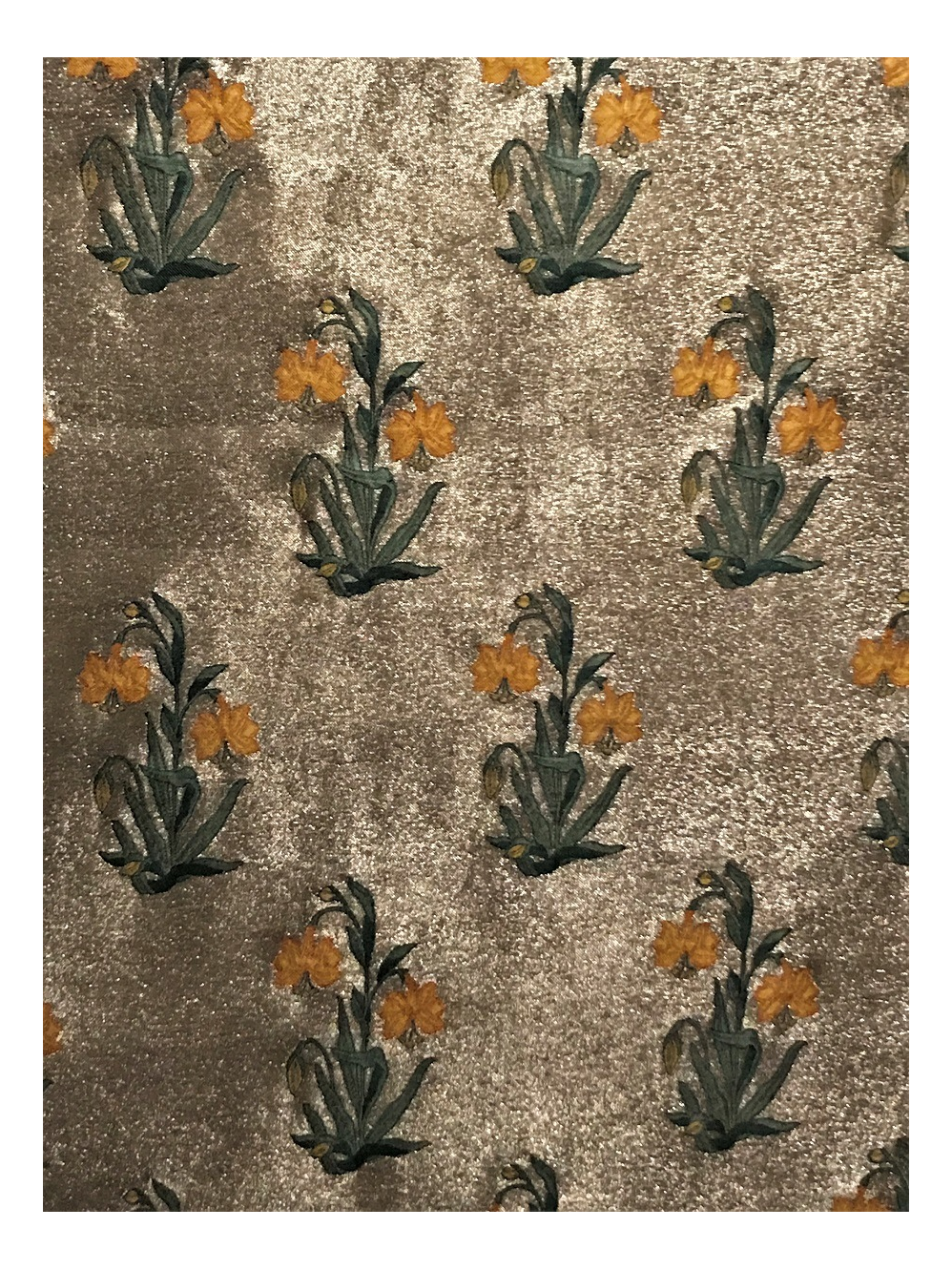 FLORILEGIA - Florals have captivated the imagination of weavers & artists through centuries and across craft forms. They remain paramount in woven textiles through motifs and patterns such as buti, bel, buta and jaal.
---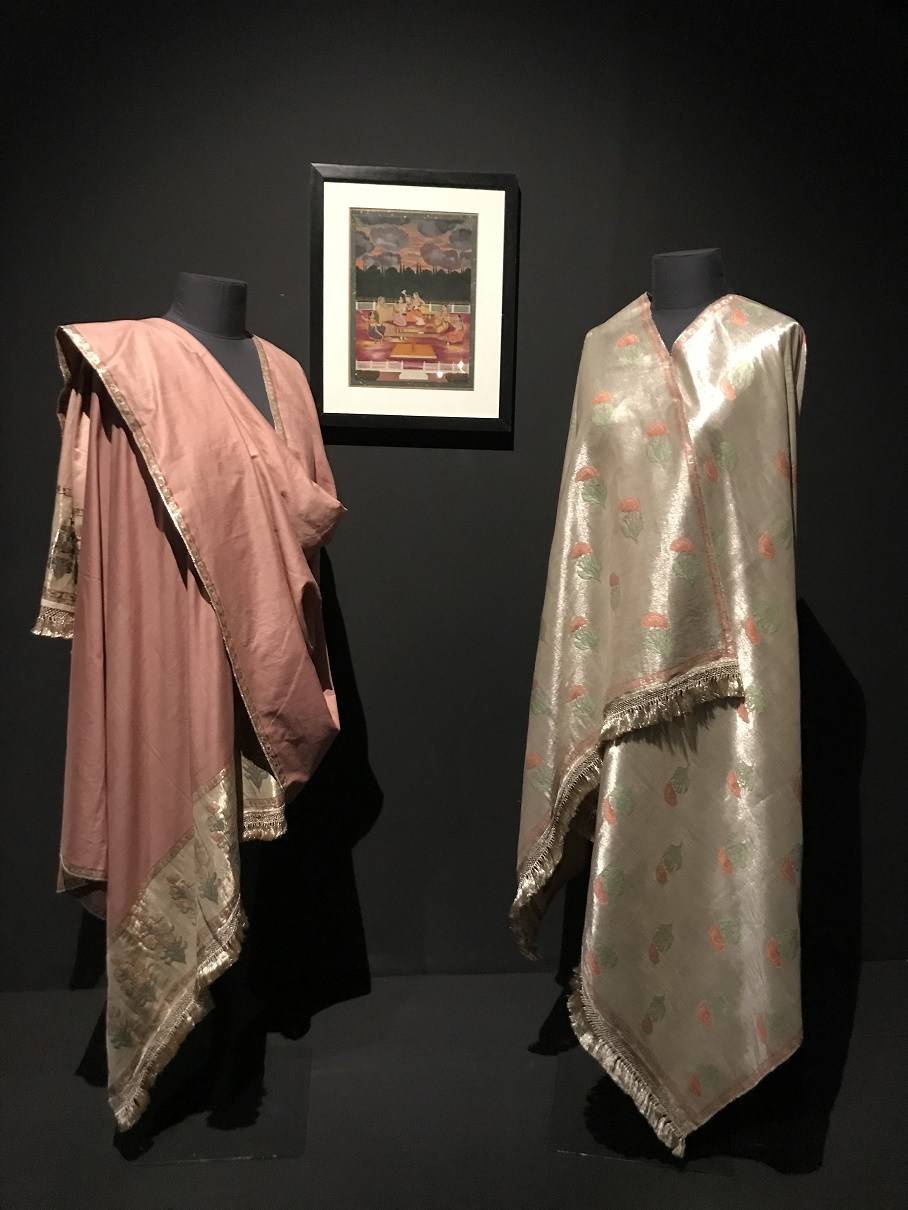 Left: Shawl - silk, cotton and silk, End-panels and borders of silk, silver thread twill tissue brocaded with silk; plain twill field with cotton weft. Varanasi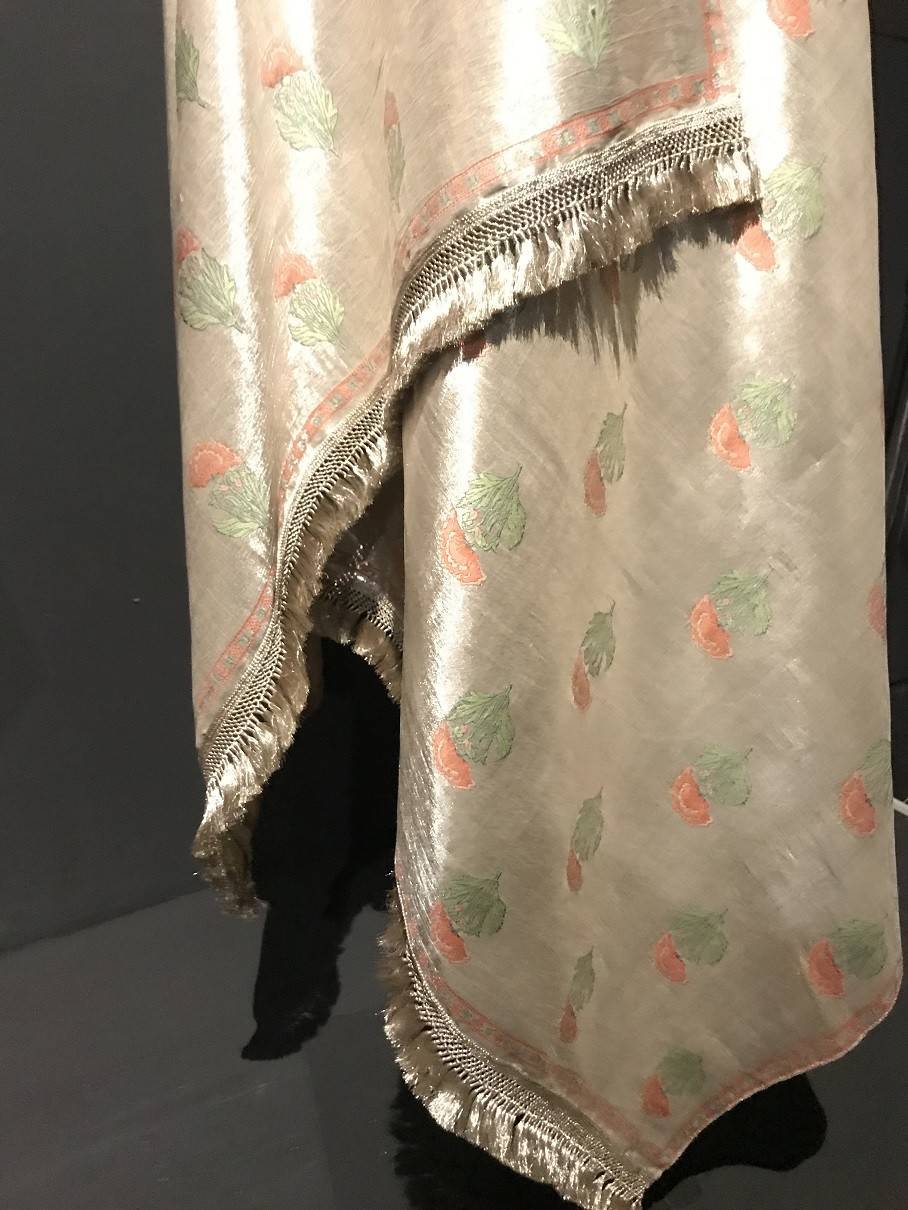 Shawl - silk and silver thread twill brocaded with silk. Varanasi. Floral motif borrowed from a brocaded twill tissue, dated c. 1700 from Safavid Iran, Calico Museum of Textiles Collection, Ahmedabad.
---
The Makhmal or velvet section showcases a mix of fabric lengths and garments - jackets & waistcoat. The fabric lengths are woven in voided technique with patterns in three colours of silk pile against backgrounds of silver thread. The design woven on garments in solid pile technique draw inspiration from Mughal chevron patterns and Imperial Ottoman influences.  
---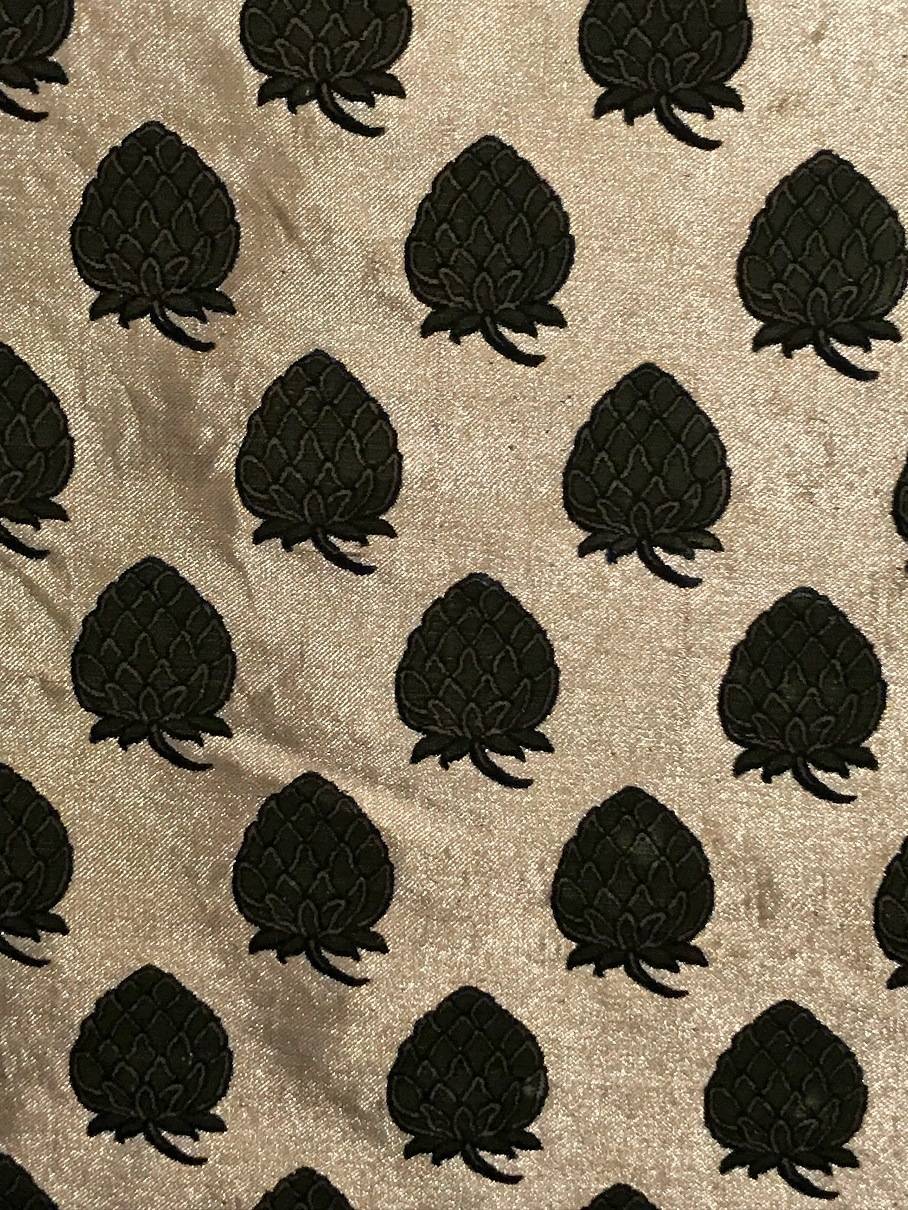 ---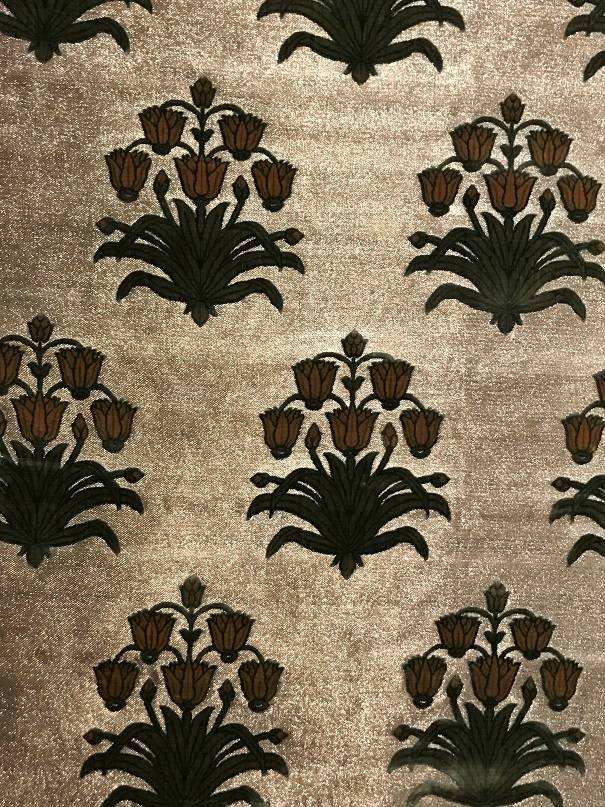 ---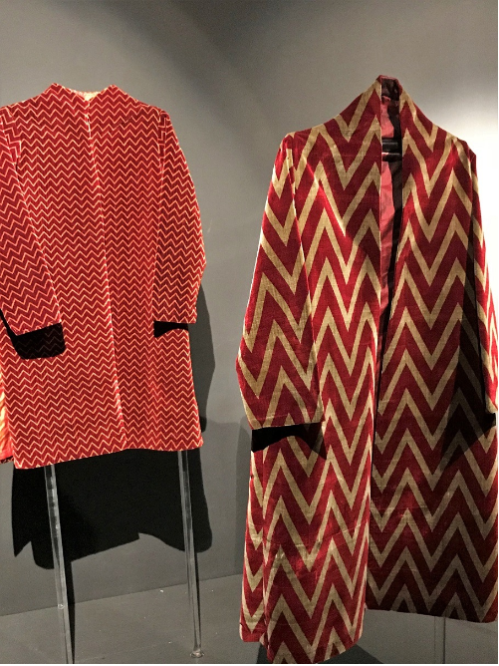 ---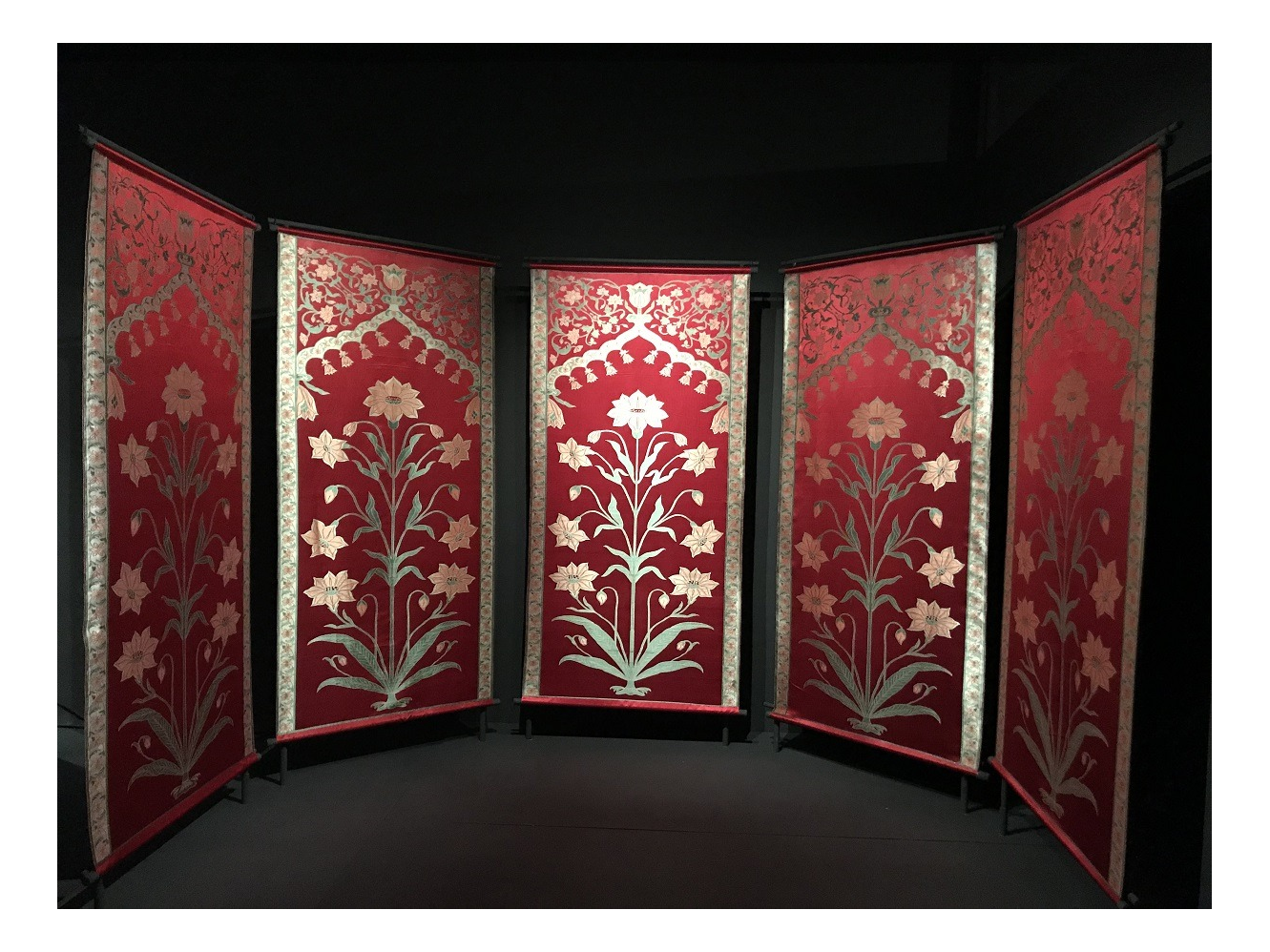 "Qanats or tent wall panels were an intrinsic part of Indian court paraphernalia along with carpets, furnishings and animal trappings. A vast amount of tentage was needed to house imperial camps which were large tented cities on the move, with components that frequently needed replacement. The five, identical panels seen here are inspired from a mid-17th century, imperial Mughal example at the Calico Museum of Textiles, Ahmedabad. These wall panels would have been used in conjunction with canopies, awnings, carpets, bolsters and cushions, pole covers, accessories and trims within a royal chamber. Woven in a lampas weave, the central flowering plant placed under lobed arches is an artistic composite of botanical details from several flower species. The chief appeal of this set is the monumentality of the central motif."
Text from National Museum
---
---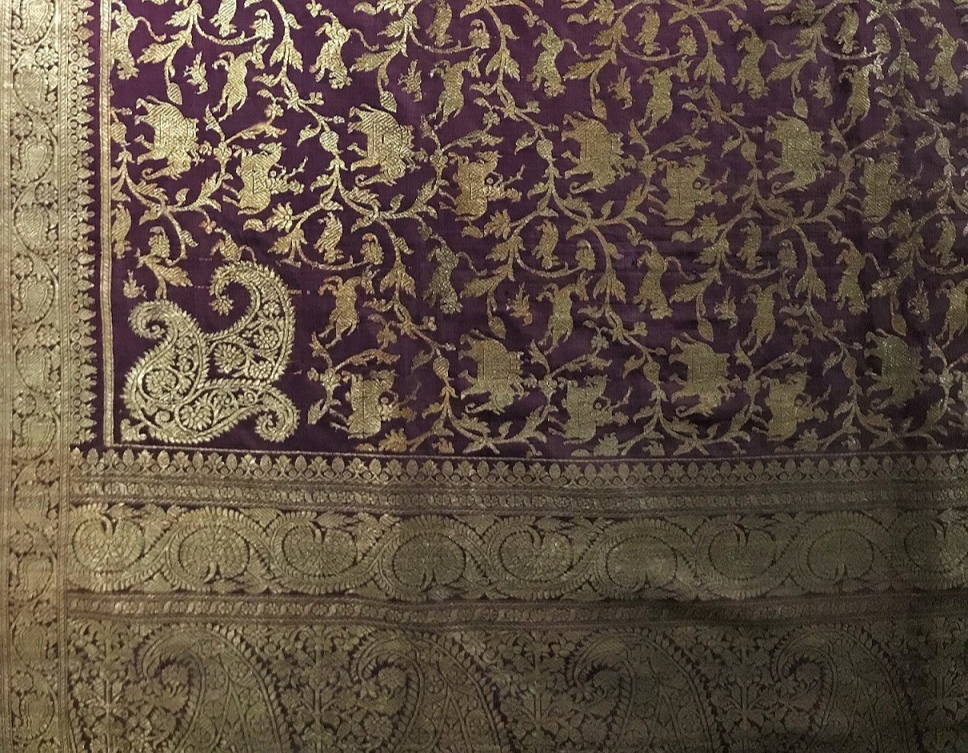 ---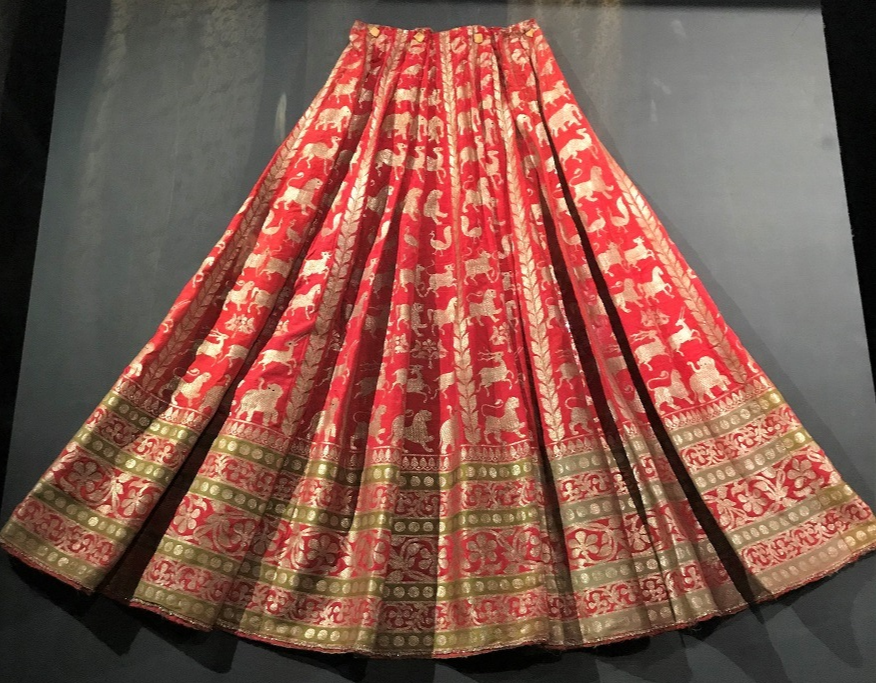 Shikargah textiles woven in the traditional samite weaving technique with silk and silver zari. As popularly believed, the Shikargah pattern depicts the royal Mughal hunt and is said to include species from India's endangered wildlife.
The woven bird motifs include - the Tree Pie, Himalayan Bulbul, Paradise Flycatcher, Siberian and Sarus cranes. Animals woven in all their glory span from the endangered Wild Ass of the Kutch and the Snow Leopard of the Himalayas, Asiatic lion, forest deer, mountain goats to crocodiles and pythons.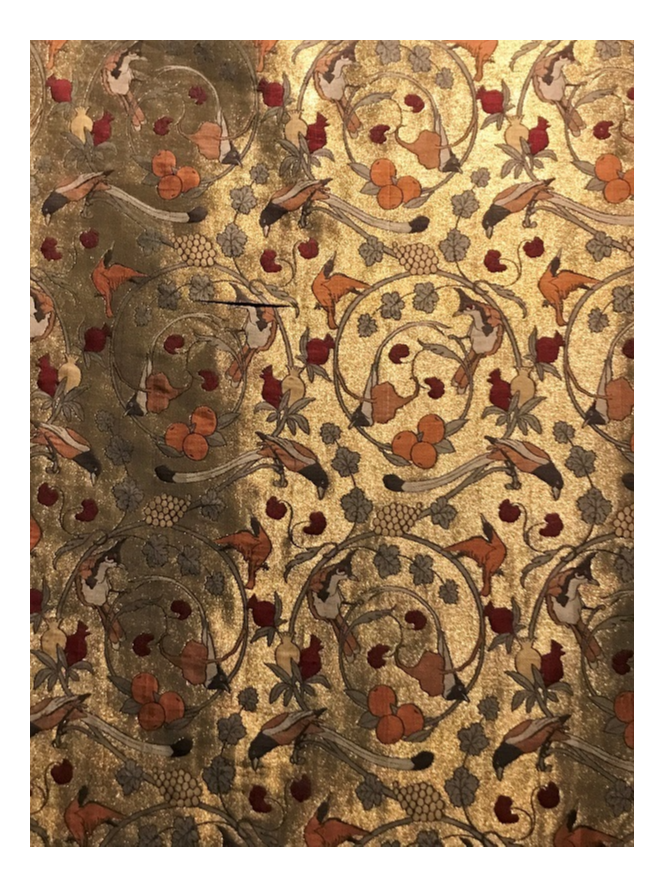 ---
---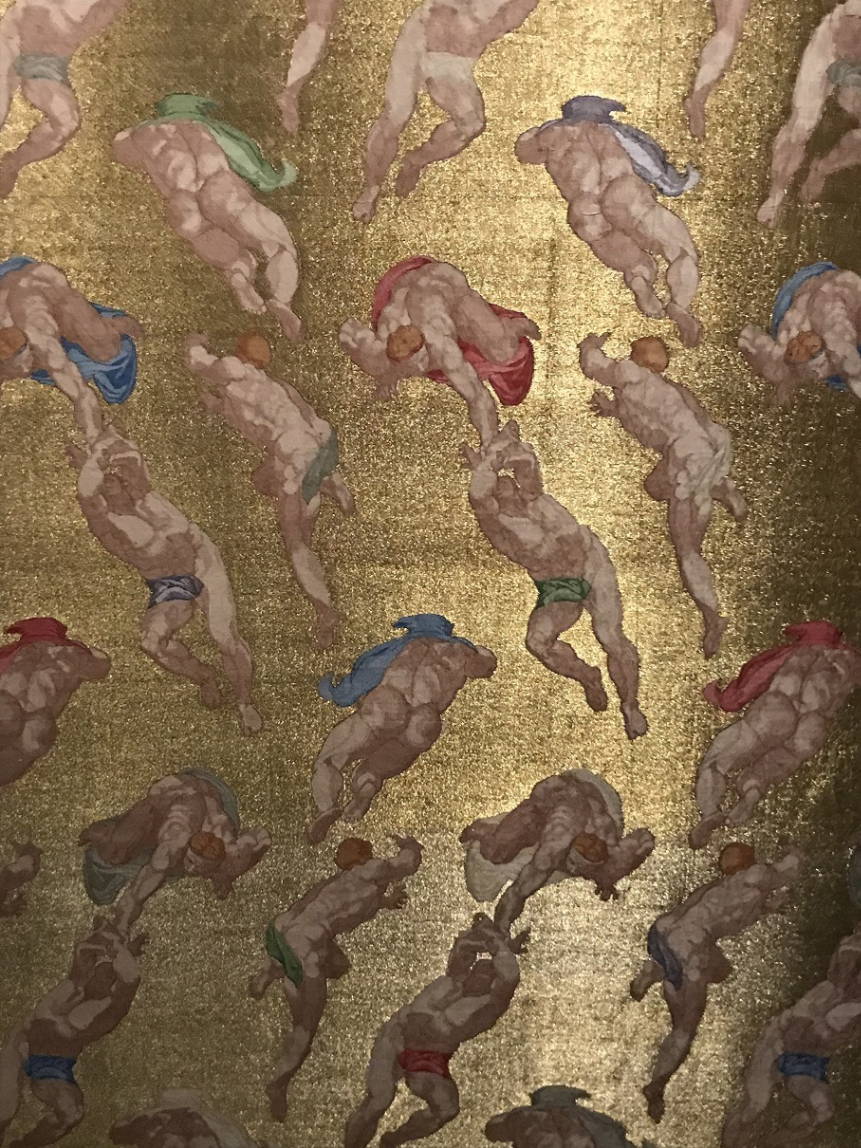 Triptych - silk, silver and silver-gilt thread in extended samite weave. Varanasi. Figures adopted from the Last Judgement frescoes, dated c. 1534, Vatican City.
---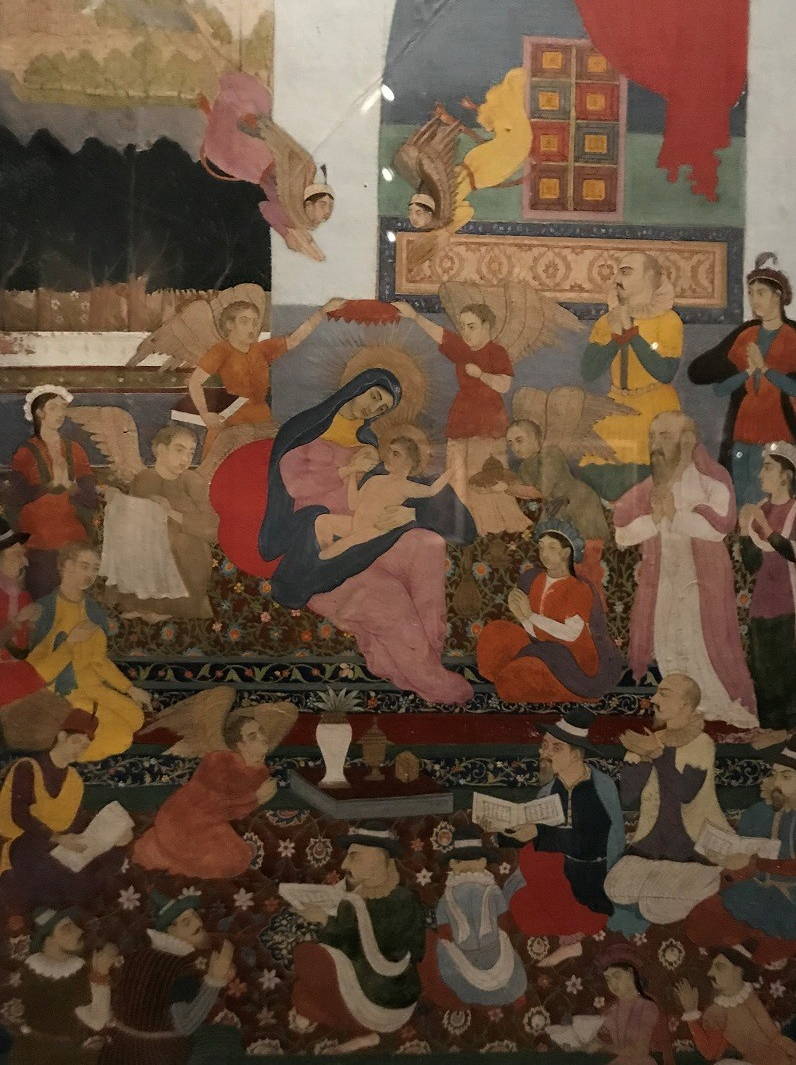 The Nativity. Mughal India, c. 1725-1730 CE. National Museum
---
THE PASSAGE
"Surviving examples of human figural images in courtly Indian textiles are few and far between. They would have been known, however, in all textile genres, including woven, printed and embroidered textiles. Featuring prominently in the early woven textiles that survive from the Mughal era are European figures adapted from the Christian imagery brought to India by Jesuit priests. Christian themes, similarly, appear in miniature paintings from the late 16th and early 17th centuries at the Mughal and Deccani courts.
Woven in silk, silver and silver-gilt thread in an extended samite weave. Their European figures are adapted from "The Last Judgement" fresco, painted by Michelangelo in c.1934 CE, in the Sistine chapel, Vatican City, Italy. The woven images, in some ways, reflect the revered Indian ideal of Kashi as the earthly portal for the final release, moksha, as the soul rises to free itself from the samsara, the cycle of rebirth. The rite of judgement and the subsequent passage of the soul converge as a profound metaphysical idea across religious and cultures. Kashi remains, even today, a bedrock for human faith."
Text from National Museum
---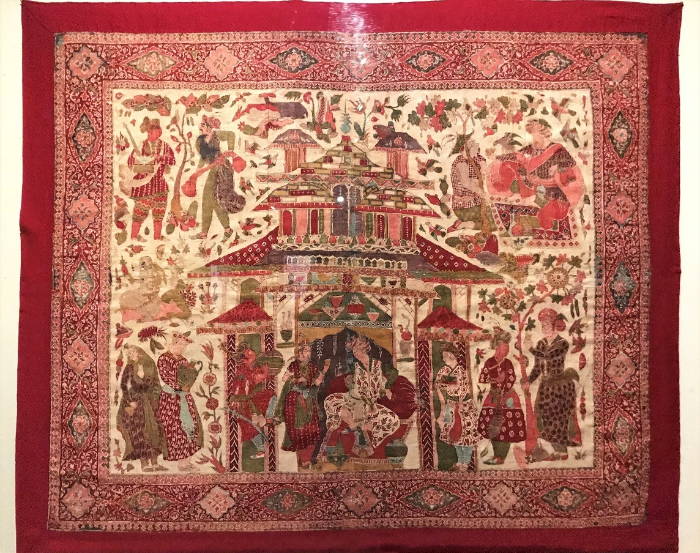 Kalamkari Cotton Rumal. Probably Coromandel Coast, c. mid-17th century CE. The coverlet depicts a Deccani pavilion with a princely figure dressed in Persian costume. National Museum
---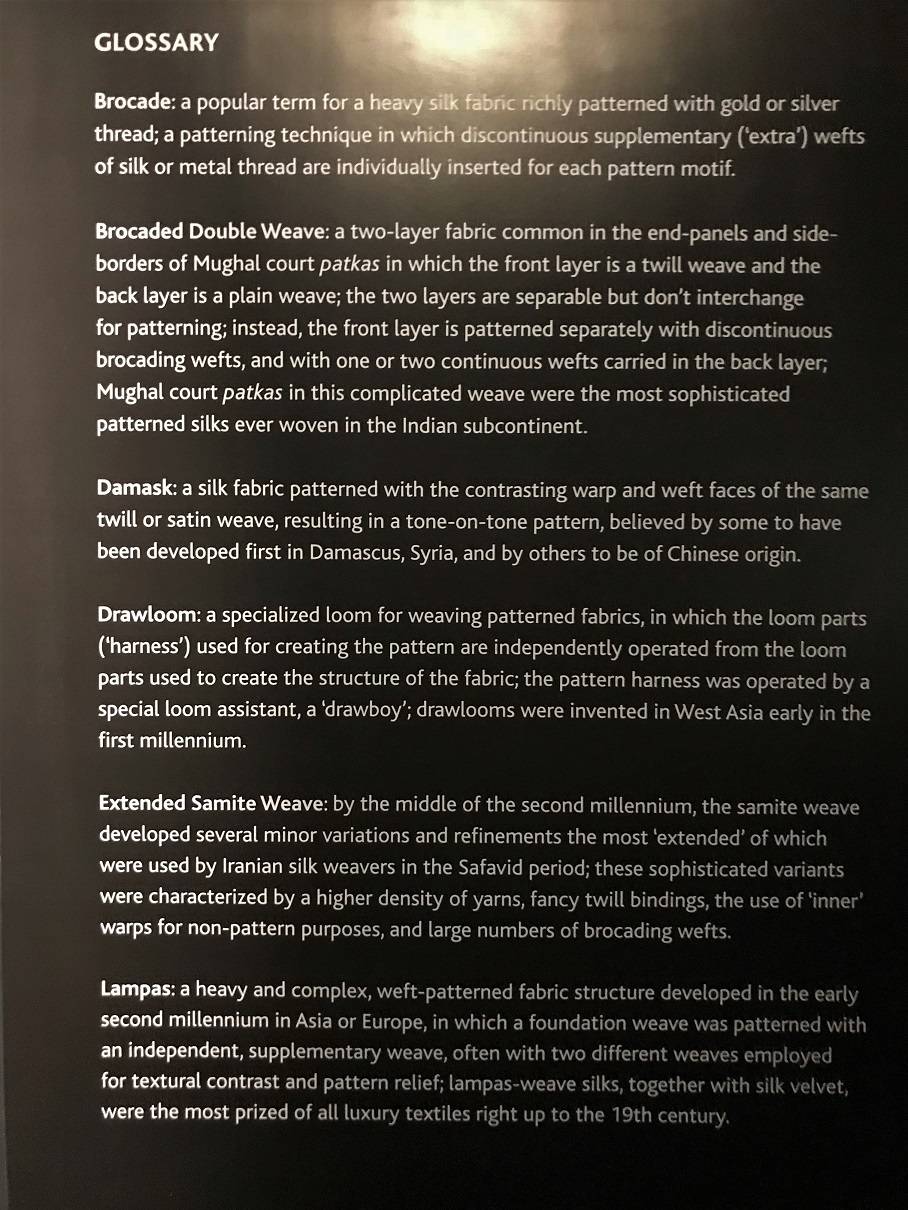 ---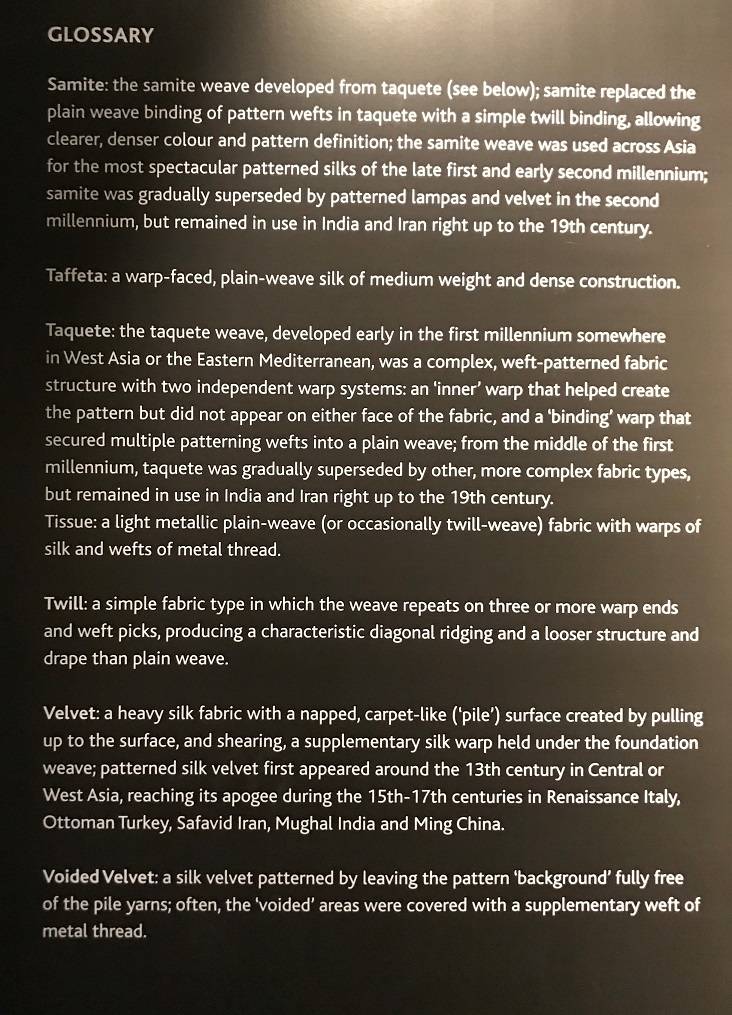 ---
The exhibit is presented by National Museum in collaboration with Devi Art Foundation. All pieces are woven by a group of skilled weavers under the aegis of Rahul Jain. The exhibition has been curated by Pramod Kumar KG.All images and text excerpts are from National Museum.
---
join us on our day out with Tilfi! In this section, we take you around some of the most interesting events and spaces on craft, culture, textiles and design.