Diving together: Swarming colonies. 210x68 inches. Ajrakh printing and dyeing on Khadi. Shelly Jyoti. 2019
Artist Shelly Jyoti's latest show - Bound by Duty: An Idea of Swaraj and Collectiveness, inspired by Gandhi's Hind Swaraj (1909) plays on her decade long engagement with Gandhian philosophies and notions of patriotism. Using a craft predominantly seen on textiles used to clothe the body, the artist creates a new visual language combining the intricacies of Ajrakh and the symbolism around the fish motif. School of fish forming rhythmic, almost visually soothing patterns, take centre stage in each one of the 32 art scrolls displayed across the length and breadth of the exhibit.
---
Jyoti decided to conceptualize her artwork around the central motif after reading an article which stated - when a trillion of tiny fish come together, they displace water to create oceanic currents, waves and turbulence in undersea environment. "This is my way of examining the idea of collectiveness for social change," says Shelly Jyoti, taking a cue from Gandhi's critique of modern civilization and creating an alternative perspective for a better world. Given her focus with Gandhi's seminal work, using hand-spun, home grown Khadi as a medium is perhaps the obvious and ideal choice for the artist.
---
---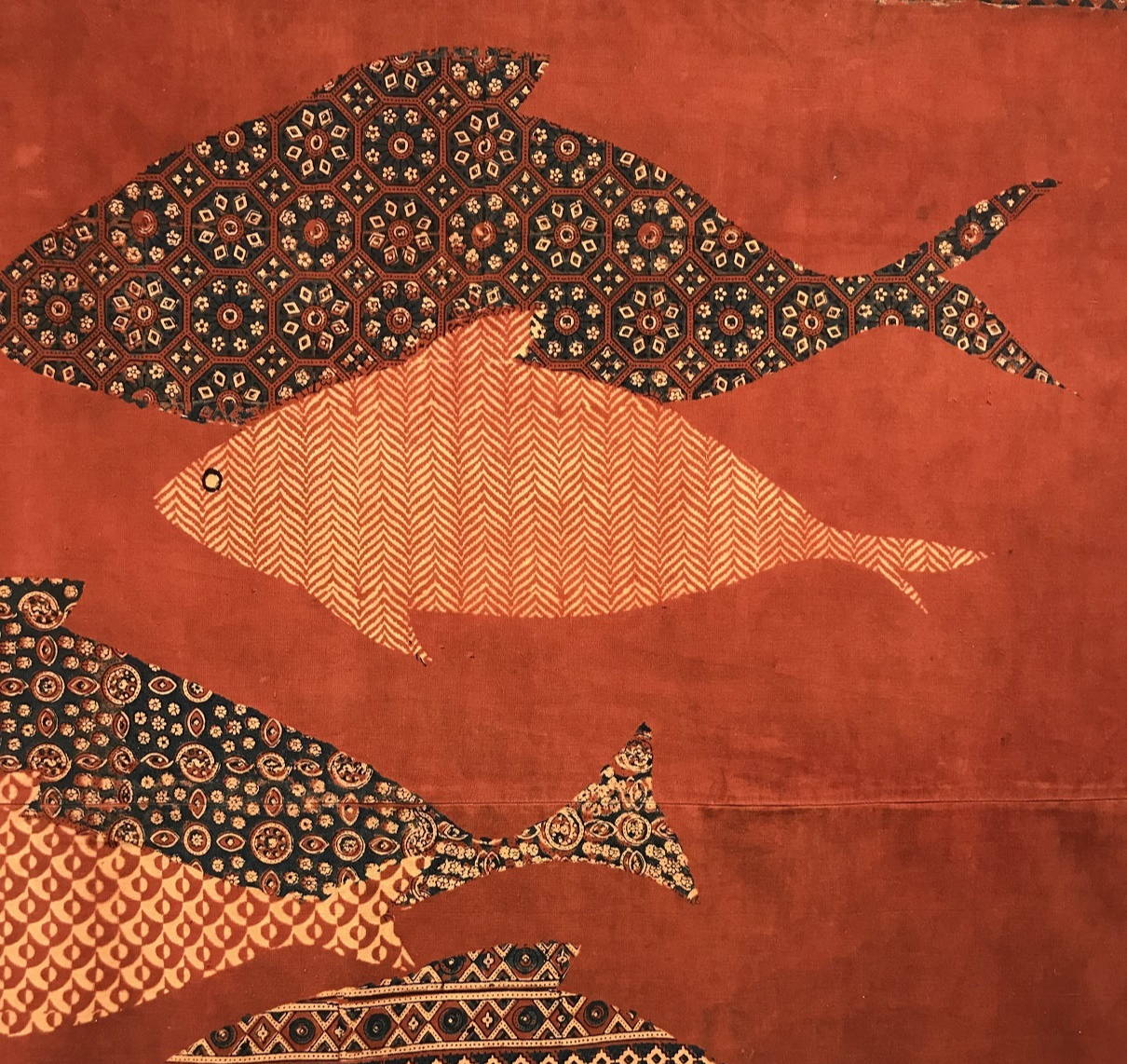 ---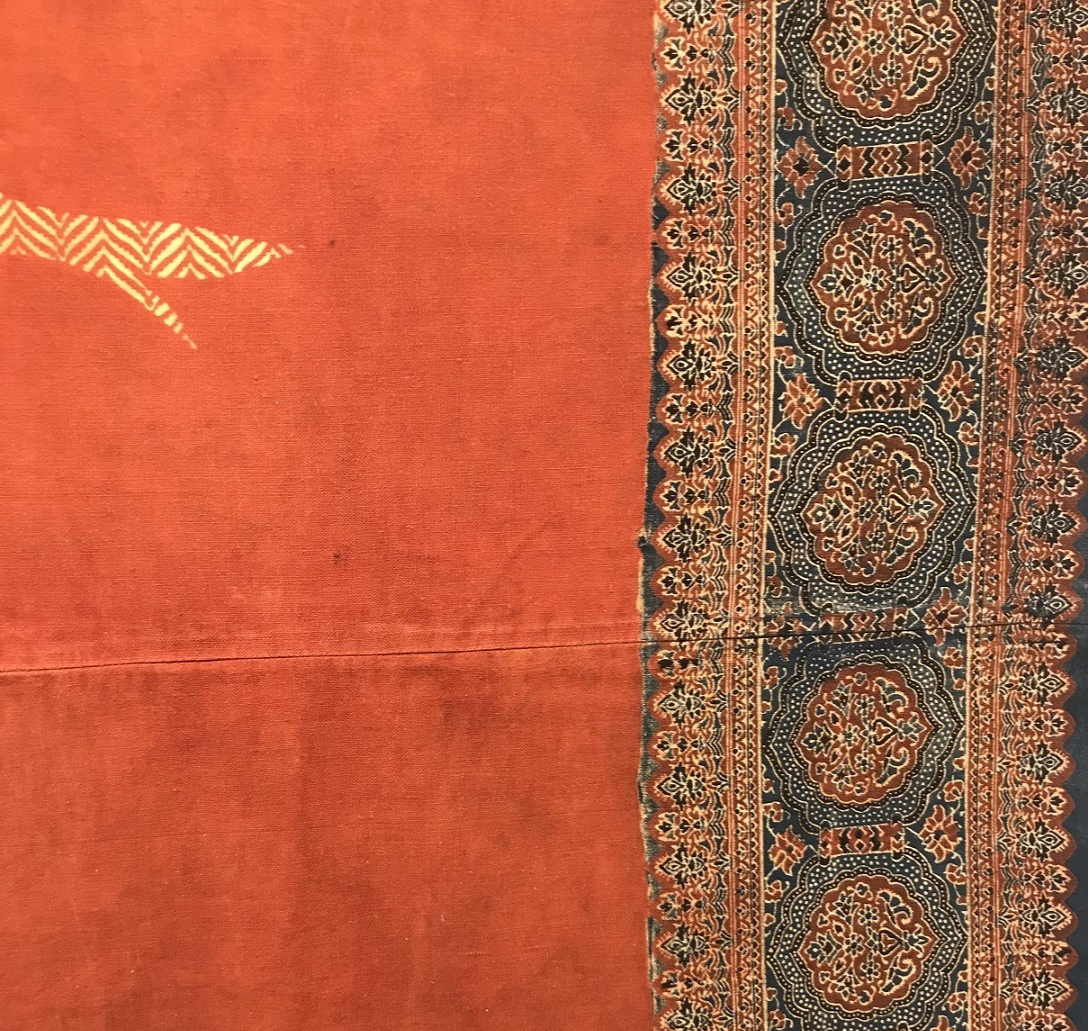 Tripartite souls. 50x80 inches. Ajrakh printing & dyeing on Khadi. Shelly Jyoti. 2019
---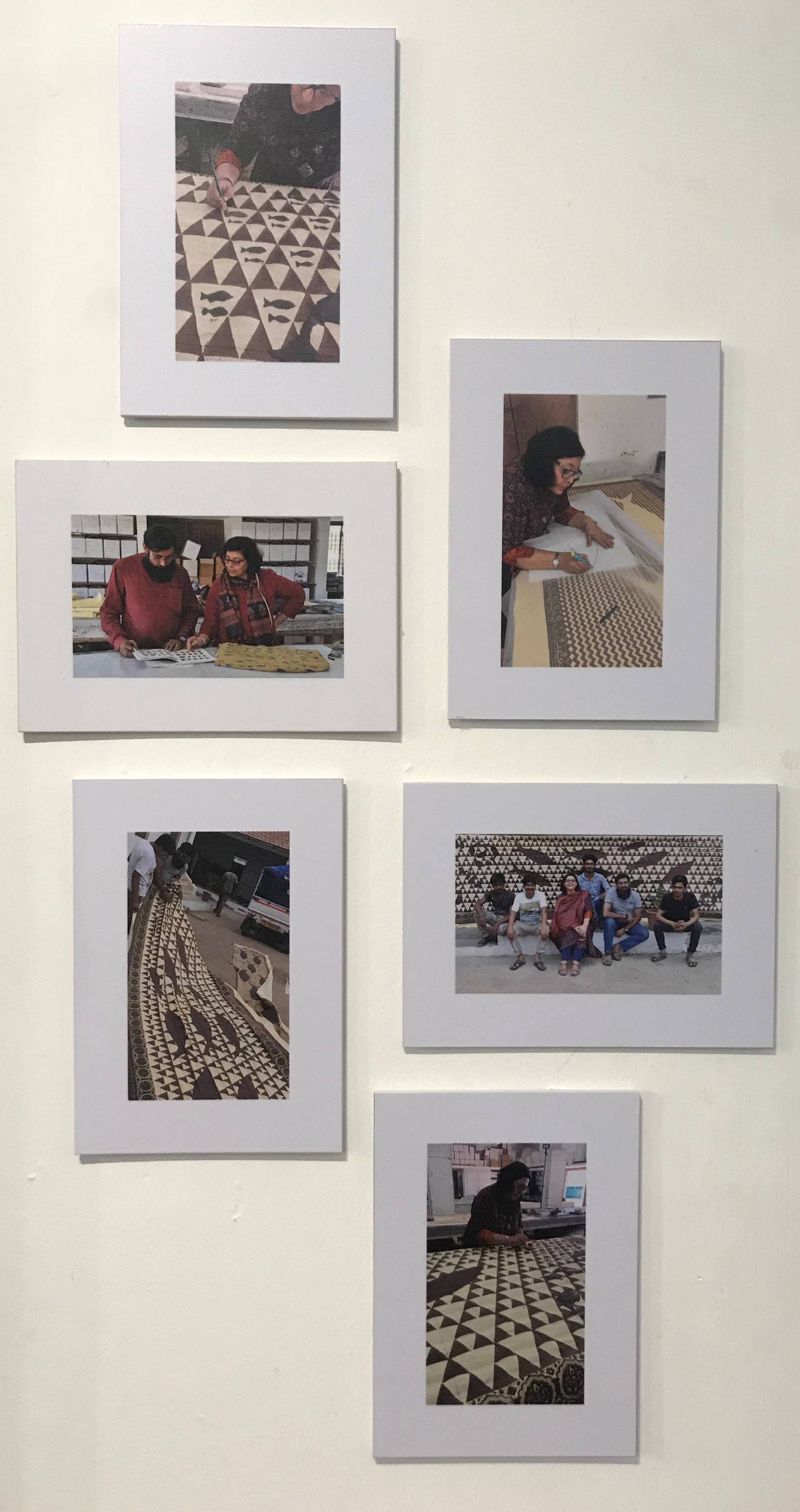 The artist, Shelly Jyoti and Junaid Ismail Khatri at his workshop in Bhuj, Gujarat.
Jyoti was first introduced to Ajrakh almost a decade back in 2008 while researching on indigo dye in Gujarat. Ajrakh is a resist style block printing technique which dates back to the ancient civilization of the Indus Valley. With some 20-odd steps, this complex craft is practiced by skilled Khatri communities in parts of Rajasthan and Gujarat. The patterns have over the years remained geometric in naturally dyed shades of deep crimson red, indigo, black, yellow and brown.
Some of the traditional geometric patterns in Ajrakh can take up to 23 wooden and iron blocks. Jyoti has extensively worked with Junaid Ismail Khatri, a tenth generation Ajrakh craftsperson from Bhuj, Gujarat to develop her artwork for the exhibit.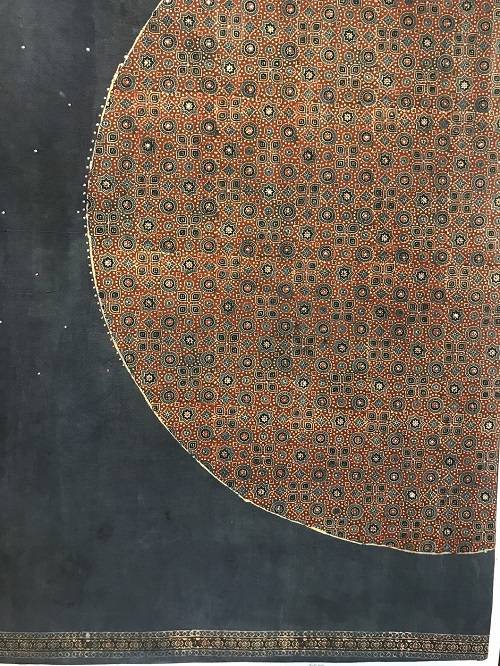 A close up of Lunar swell: A Dusk moment and terminator
36x50 inches. Ajrakh printing and dyeing on Khadi. Shelly Jyoti. 2018
---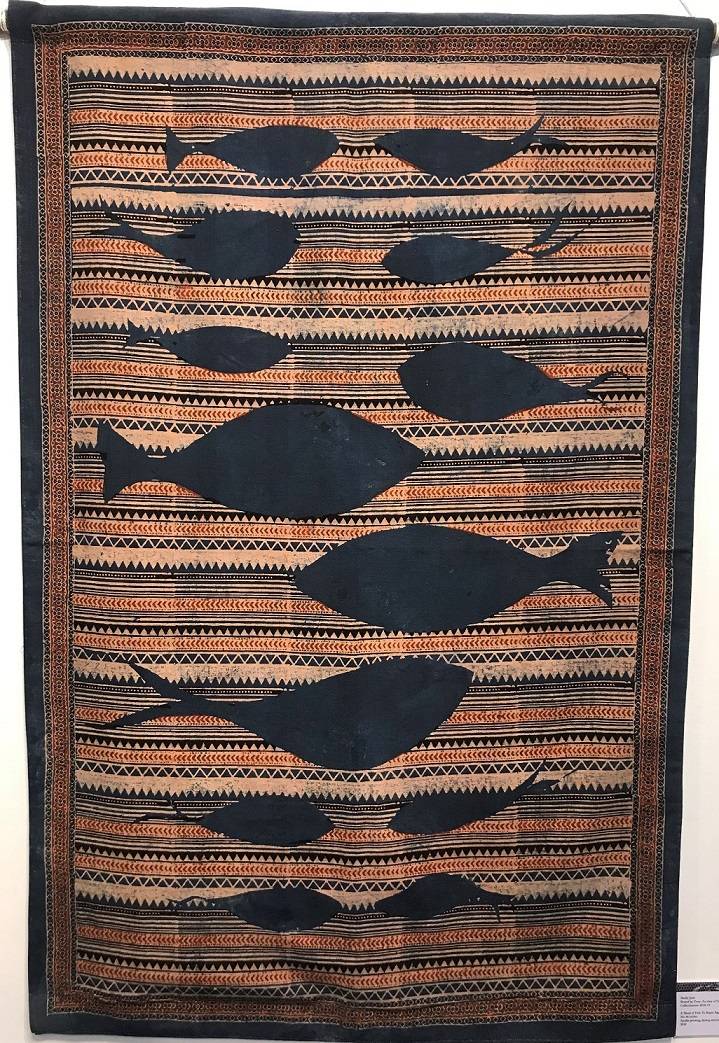 ---
The fish appears in a magnitude of sizes and forms – from a single motif to school of fish, in solid tones to patterned Ajrakh, contained in closed shapes to spanning across the textile and proportionally aligned to asymmetric, but always in rhythm.
---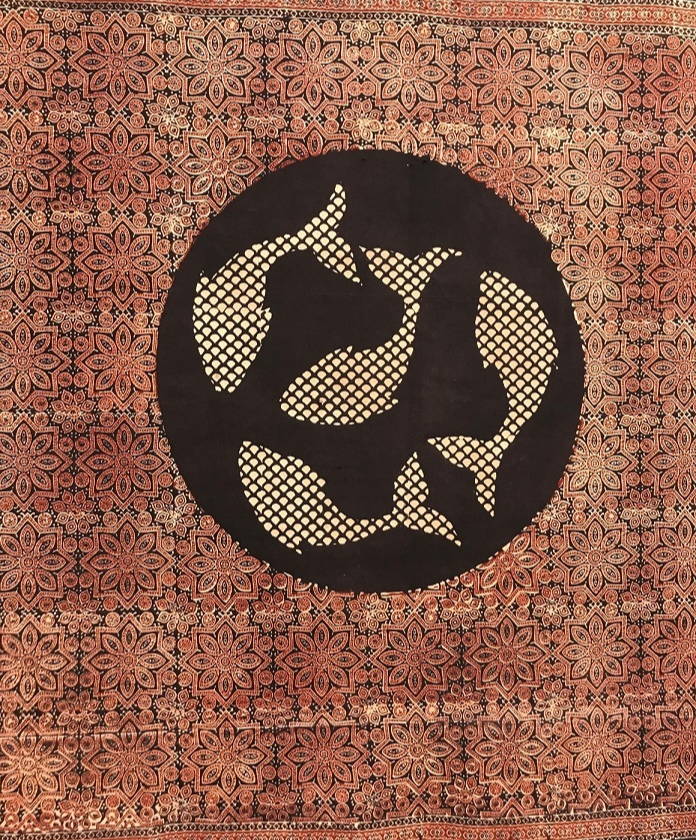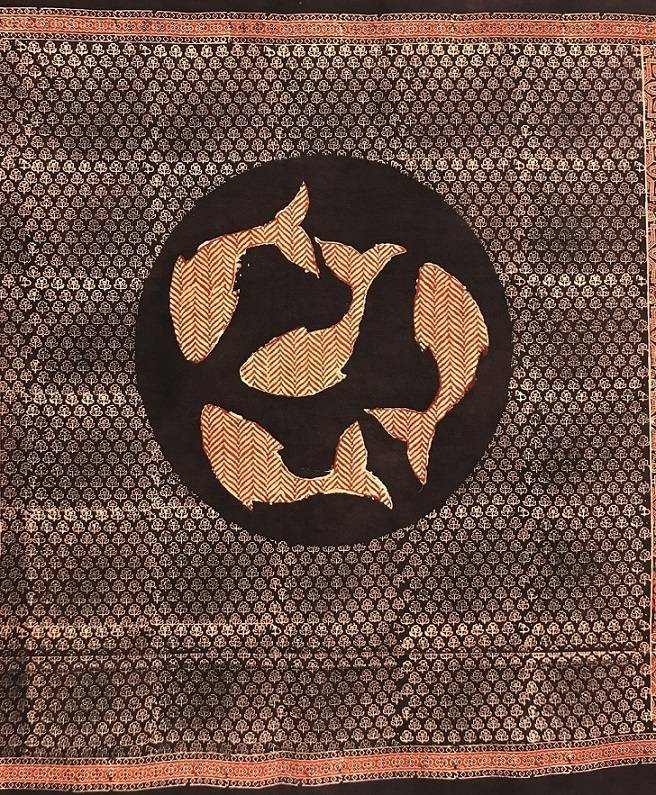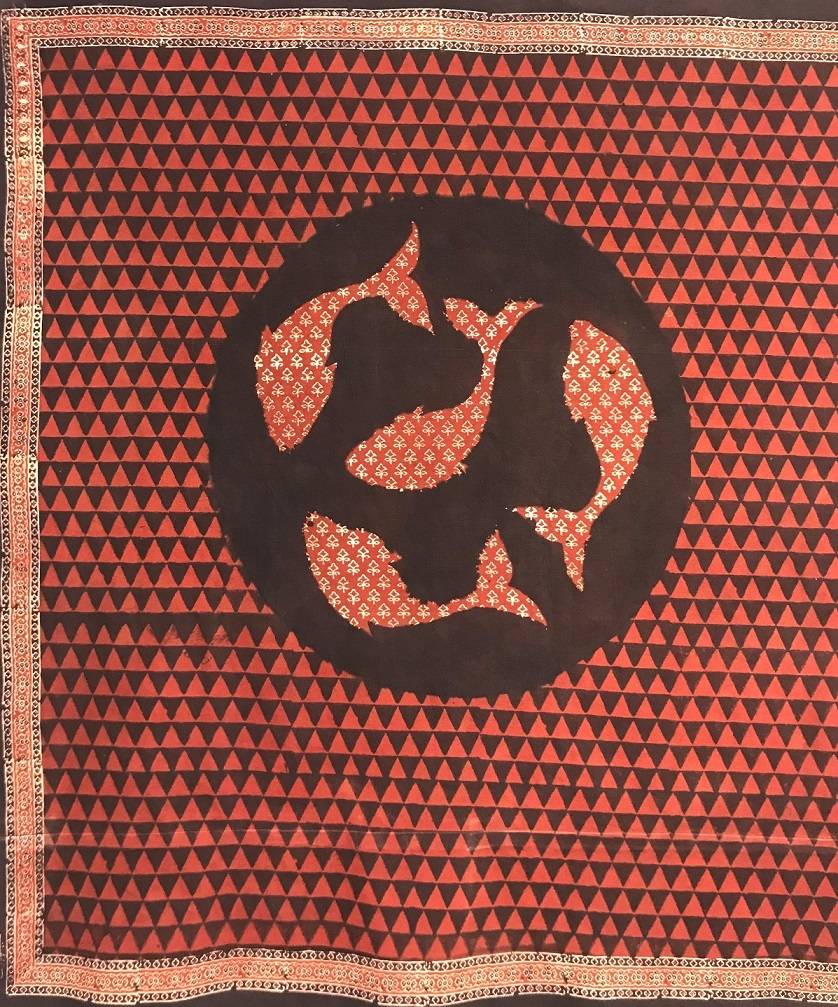 Six fish bowls. 240x50 inches. Ajrakh printing & dyeing on Khadi. Shelly Jyoti. 2019
---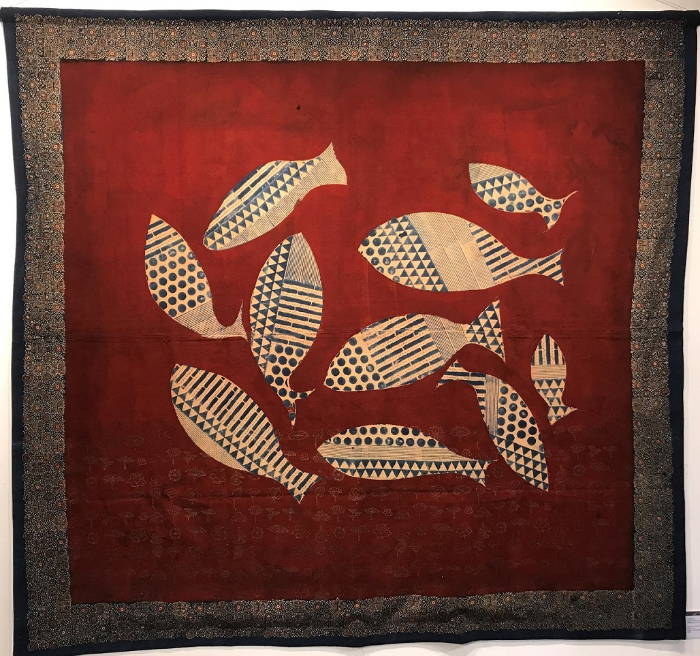 ---
An initiative with National Institute of Fashion Technology and the artist, Shelly Jyoti as part of an outreach program for final year textile art students. The installations use textile art as a medium to evoke emotions of Swaraj, collective impact and creating peaceful societies. The art pieces are created using discarded materials, straws, metal wire, mesh, cotton, wool combined with techniques such as applique, felting, embroidery, weaving, coloration and knotting.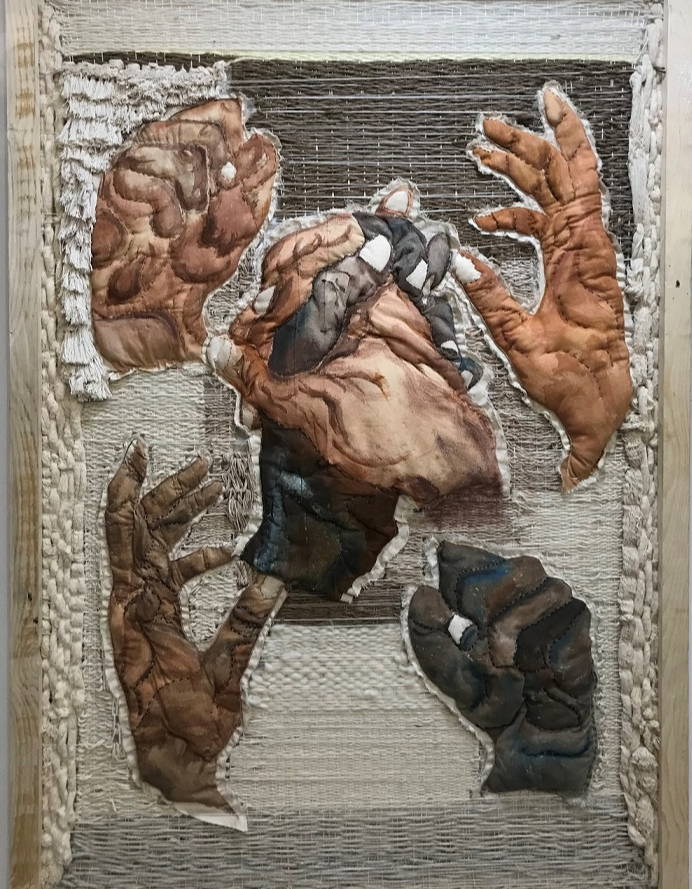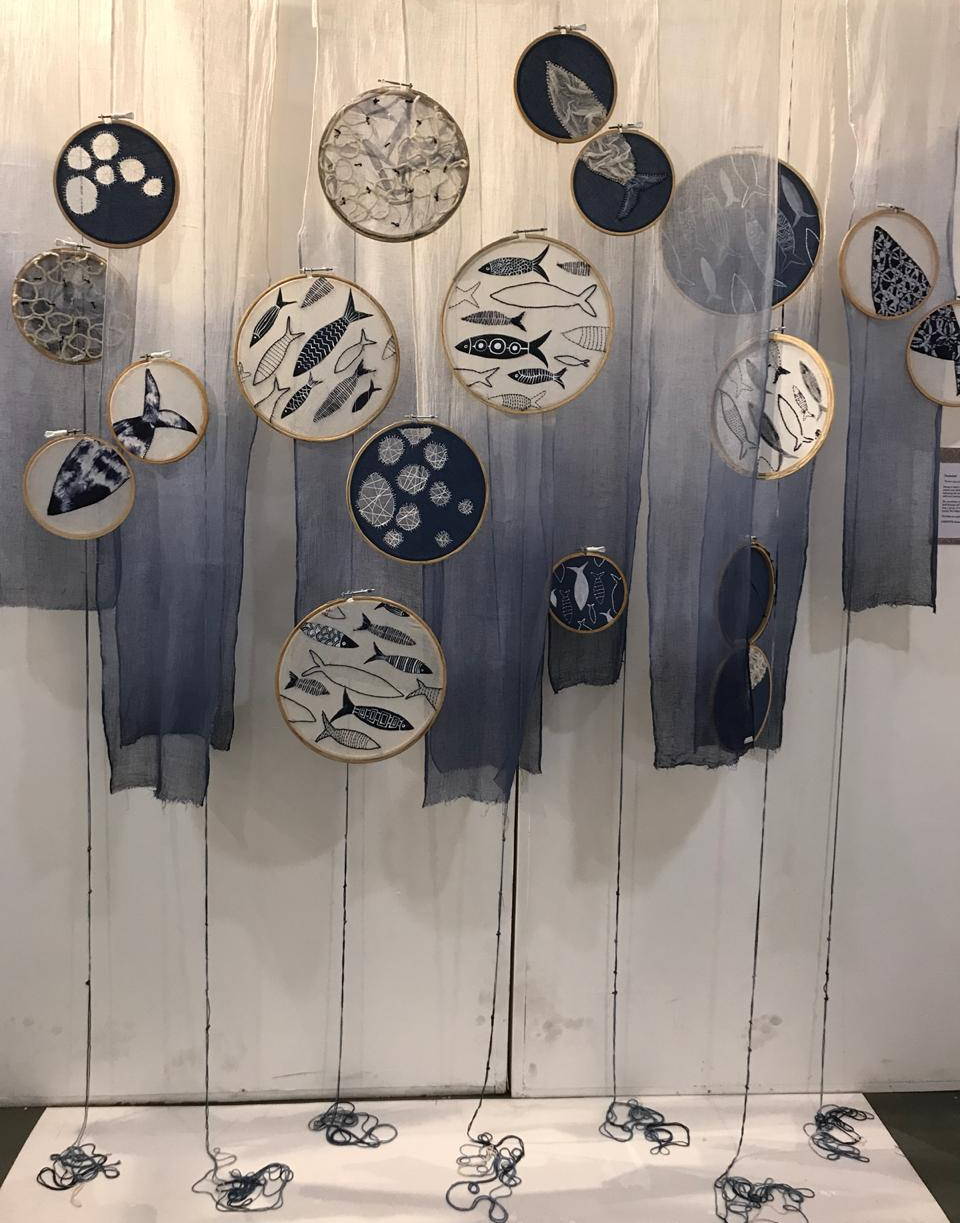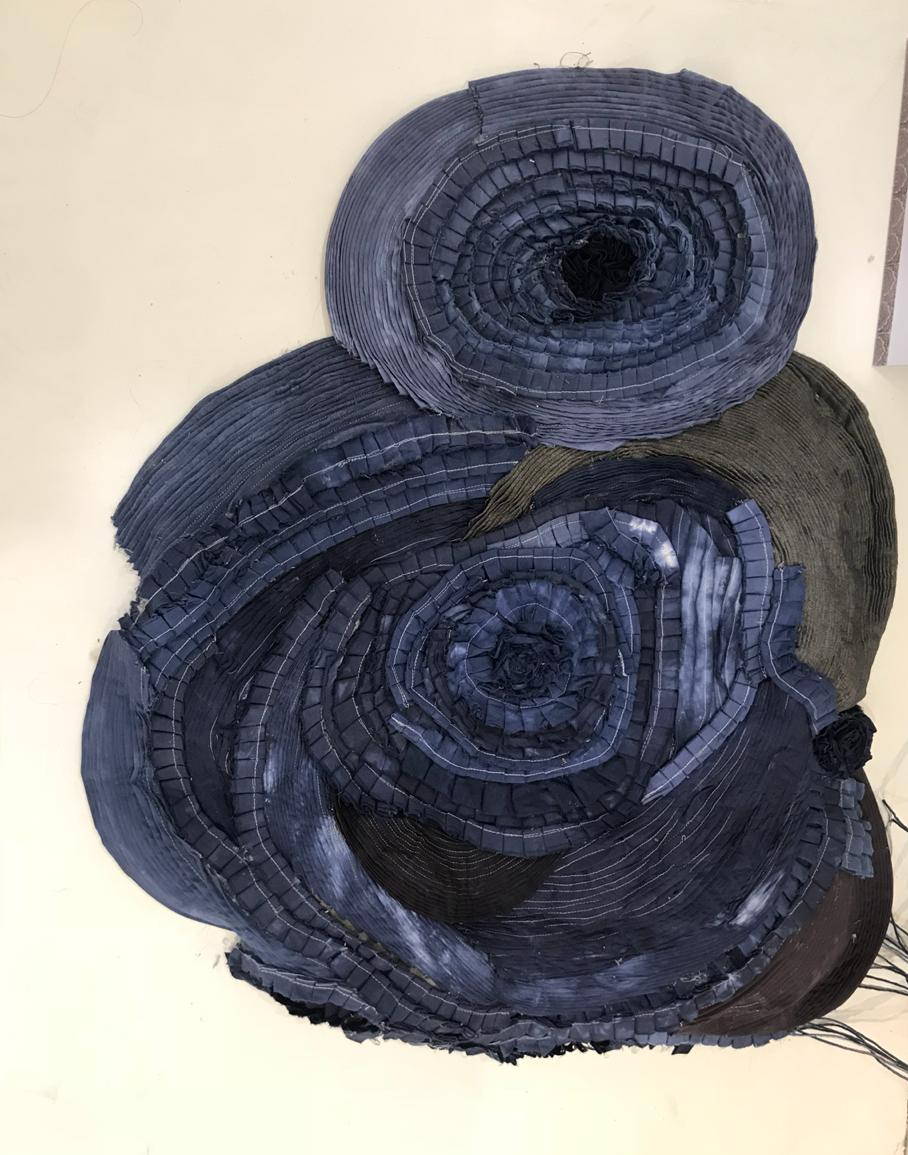 ---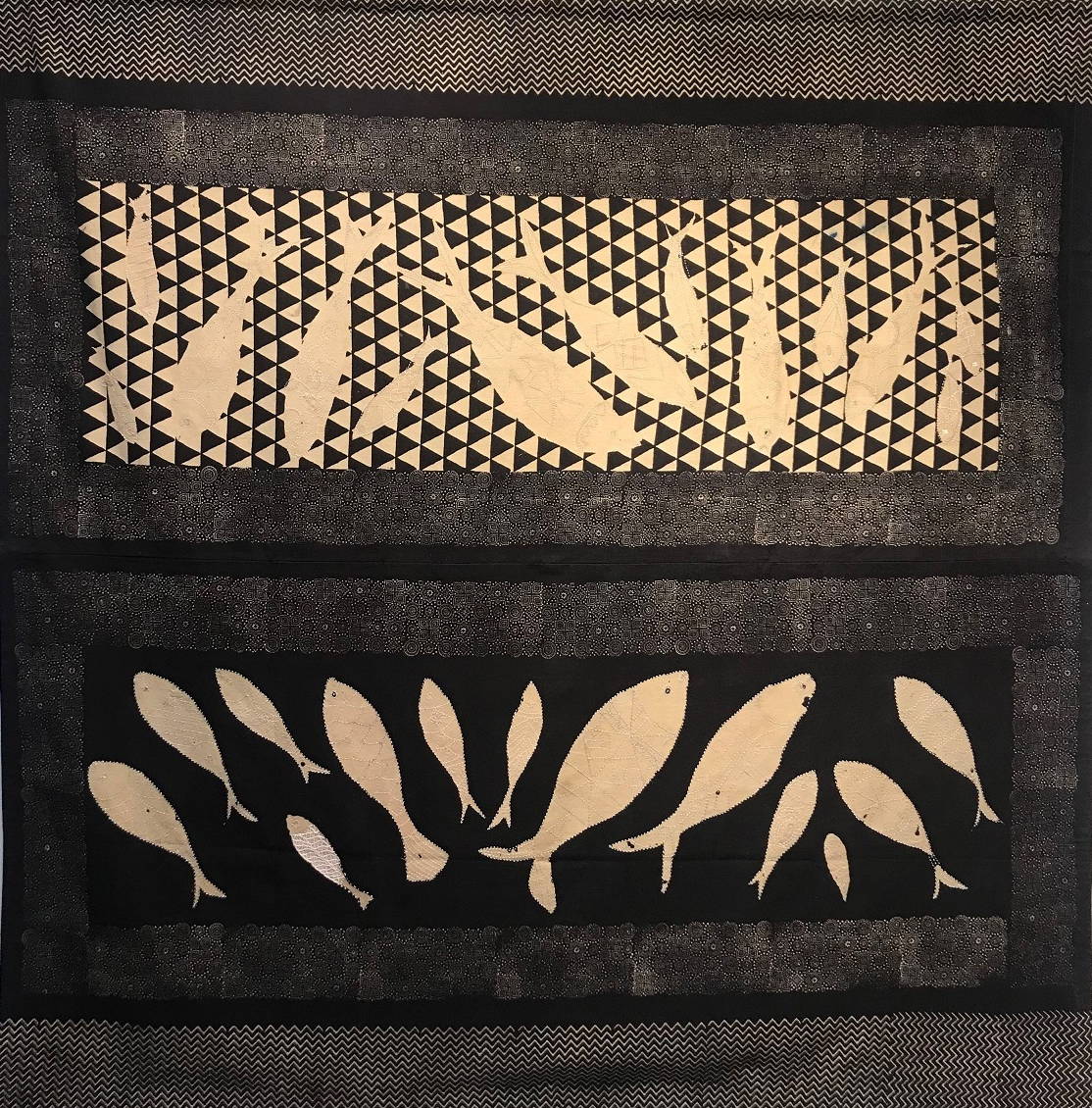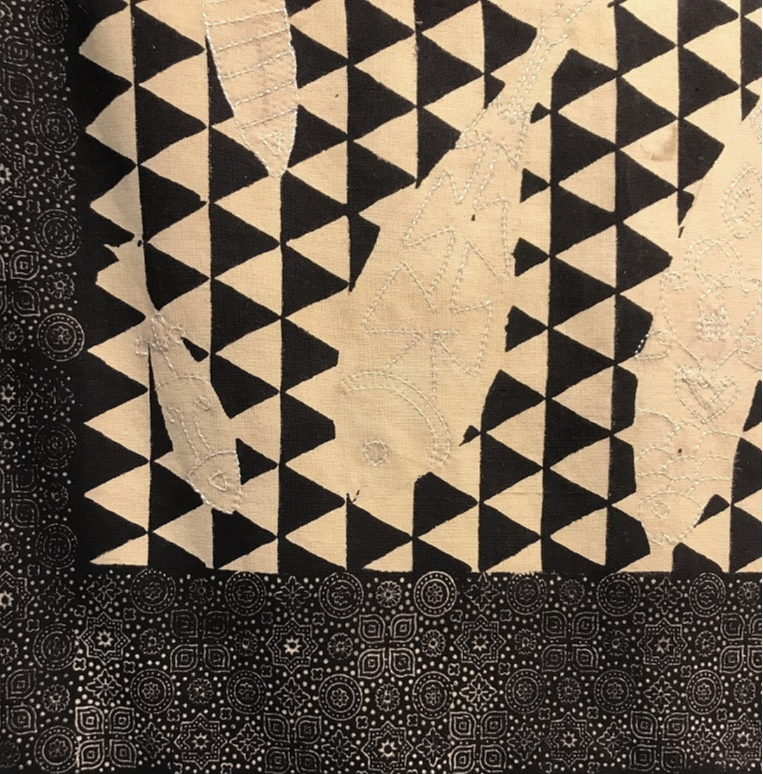 Fish Series: Reflection. 80x70 inches. Ajrakh printing, dyeing and needle work on Khadi. Shelly Jyoti. 2018
The artist subtly incorporates the use of running stitch embroidery in her art pieces. In some cases, it's used to accentuate the fish motif while in others, it forms a part of the background design.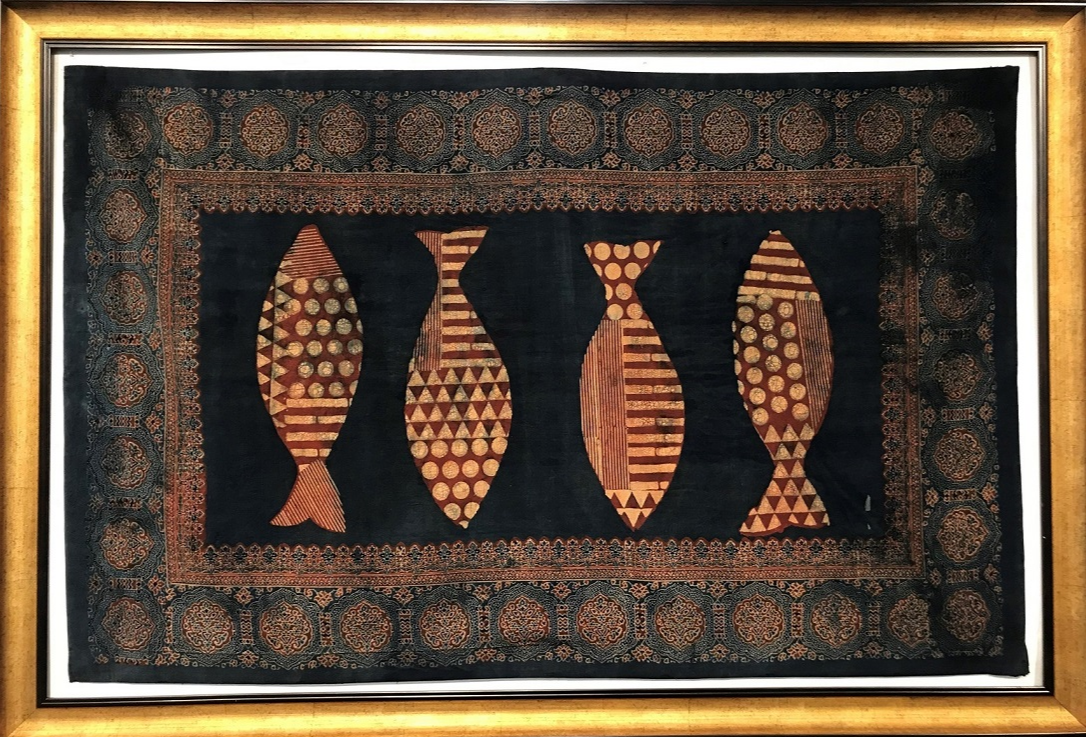 ---
This exhibit is a continuation of Jyoti's distinguished work titled Indigo Narratives, 2009, Salt: The Great March 2019 and The Khadi March: Just Five Meters 2016. Bound by Duty: An idea of Swaraj and Collectiveness 2018-2019 is supported by the Khadi and Village Industries Commission and Good Earth.
---
join us on our day out with Tilfi! In this section, we take you around some of the most interesting events and spaces on craft, culture, textiles and design.